Dogs are man's best friend but when flatulence comes between you and your dog unpleasantness ensues.a Some dog breeds are naturally gassier than other breeds, such as the English Bulldog, Doberman, Beagle, and Pug. While a slip here and there may be considered amusing, when your dog is constantly passing gas it could be a warning sign that something in their gastrointestinal tract is not quite right. It will leave you wondering how to stop dog farts. Having been a dog breeder and trainer for over 25 years, I have had my share of gassy dogs. Some it was just a matter of diet change to alleviate the excess gas.
A trip to your veterinarian might be in order if your dog's farting has increased significantly or you notice any abdominal discomfort. However, if the amount or odor of your dog's flatulence has increased over time, it may be time to take a look at their dog food. Some dogs have sensitive tummies and certain ingredients can cause more gas. Food allergies can also cause gas as can parasitic infections and gastrointestinal disease. Finding the best dog food for flatulence is not that difficult, finding the right dog food for your dog's gas may prove a bit more daunting.
We will explore the best dog foods on the market for dogs that have increased flatulence. If your dog continues to have gas problems or the gas is accompanied by vomiting, diarrhea, and/or abdominal discomfort, schedule a trip to your veterinarian. While you will not be able to completely stop your dog from farting, you should be able to find dog food to reduce gas and allow you to snuggle with your four-legged friend once again.
You need a dog food that won't have your dog passing gas all day! Well, look no further than the list below and find the best dog food that doesn't cause gas.
1. Taste of the Wild High Prairie Canine Grain Free Dog Food
One of the most popular dog foods for gassy dogs is Taste of the Wild High Prairie Canine Grain-Free. It has very palatable grain free carbohydrates including sweet potatoes and pea protein. The main proteins include bison, lamb meal, and chicken meal as the first three ingredients. Fresh fruits and veggies are also included creating a well-rounded diet for without hard to digest grains and carbohydrates. The drawback of this dog food is that it contains multiple protein sources and dogs allergic to certain proteins such as chicken will not do well on this food.
2. Blue Buffalo Basics Salmon and Potato Recipe
Best limited ingredient dog food for gassy dogs is Blue Buffalo Basics Salmon and Potato Recipe. This food has been carefully formulated for dogs with food sensitivities that can cause severe flatulence. The single source of protein is deboned salmon making it great for dogs allergic to other sources of proteins. Easily digestible carbohydrates such as potatoes, pumpkins, and peas create a solid diet for your canine companion. Pumpkin is ideal for easy digestion and most dogs love the flavor of pumpkin. Omega fatty acids are added for a healthy coat and skin. The downside of this food is that not all dogs like the taste of salmon.
3. Natural Balance LID Lamb Meal & Brown Rice
While not a popular brand in most areas, Natural Balance is a well-rounded food offered at a reasonable price. Filled with vitamins, minerals, and easily digestible ingredients, Natural Balance LID Lamb Meal & Brown Rice is an excellent kibble that aids in easy digestion and reduces gas in dogs. The main protein is lamb which is excellent for dogs with sensitive stomachs or who have allergies to other protein sources. This is a limited ingredient food with highly digestible brown rice and filled with excellent vitamins and minerals for a well-balanced diet. This is not a grain free food so dogs with grain allergies will not tolerate this food.
4. Hill's Science Diet Adult Sensitive Stomach & Skin Dog Food
A popular choice with many veterinarians, Hill's Science Diet offers several different recipes. For dogs riddled with gas problems or gastrointestinal issues, the Hill's Science Diet Adult Sensitive Stomach & Skin Chicken Recipe is a go-to recipe that provides optimal digestion and filled with vitamins, minerals, and prebiotics. Chicken is the main protein source along with chicken meal. Digestible carbohydrates and grains include cracked pearl barley, yellow peas and brown rice. Made with natural ingredients, this dog food is a good choice for dogs with excessive gas.
5. Canidae Grain-Free PURE Senior Dog Food
The best choice for gassy senior dogs, Canidae Grain-Free PURE Senior Recipe is easy on a senior dog's digestive system and keeps the amount of gas buildup to a minimum. There are limited ingredients in this food including chicken, chicken meal, and turkey meal as the main protein source. Then garbanzo beans, sweet potatoes, and peas are easily digested. The food is rounded out with essential minerals and vitamins essential for senior dogs. I have used this dog food on a senior Dachshund with unbelievably excessive gas and it worked wonders for him.
6. Blue Buffalo Basics Turkey & Potato Recipe Puppy Dog Food
The best choice for gassy puppies is Blue Buffalo Basics Turkey & Potato Recipe Puppy food. This food can be pricey, but a healthy digestion system for a puppy with severe flatulence is worth the extra coins. This puppy food is filled with rich proteins, carbohydrates, fats, and grains that will support them as they grow. The main protein is of course deboned turkey and turkey meal. Other important ingredients include Oatmeal, peas, brown rice, and potatoes which are gentle on digestion and prevent gas from building in their gastrointestinal tract.
7. Purina Pro Plan Focus Adult Sensitive Skin & Stomach Dog Food
The most budget-friendly choice for gassy dogs, Purina Pro Plan Focus Adult Sensitive Skin & Stomach – Salmon & Rice is a food that I have fed for years to Pomeranians and Japanese Chins who have sensitive stomachs and produce excess flatulence. The main protein is salmon, fish meal, and salmon meal. Grains and carbohydrates include ground rice, barley, and brewer's yeast. Vitamins, fats, and minerals balance out the formula creating a food rich in protein, fat, and vitamins for joint, bone, and immune health all while being easily digestible and limiting the amount of gas the dog has.
8. Royal Canin Veterinary Diet Gastrointestinal Low Fat Canned Dog Food
The best-canned food option for dogs with excessive flatulence is Royal Canin Veterinary Diet Gastrointestinal Low Fat canned food. While I do not recommend a solid diet of canned food for dogs unless directed by your veterinarian, this food is a well-balanced food that is protein-rich with pork liver and pork plasma as well as filled with easily digested grains and carbohydrates such as brewer's rice flour, dried plain beet pulp, and corn grits. Prebiotics replenish the gastrointestinal tract with good bacteria.
What Ingredients in Dog Food Prevent Gas
Some dogs have food allergies that can cause tummy upset and excess gas. Many times you will not know what ingredient or ingredients your dog is sensitive to without first doing the elimination diet. Your veterinarian will closely monitor your dog during the elimination diet to ensure they are still getting the right nutrition. Once you have determined their food allergy, you know to look at the list of ingredients for your dog's food and pick a food that does not contain those allergens. Limited ingredient foods are generally best for dogs with food allergies.
If your dog is just naturally a gassy fellow with no food allergies, there are a few things to look for when picking a food.
Premium Animal Protein
You want a dog food that has protein as the first few ingredients. A diet rich in protein is generally more digestible.
Digestible Carbohydrates
Diets high in fiber will cause an excessive amount of gas to buildup and more flatulence will occur. Avoid dog food that has a lot of wheat or corn.
Natural Ingredients
Dog foods made with ingredients you can actually pronounce is definitely better than those with synthetic ingredients or by-products.
Omega Fatty Acids and Supplements
Just like humans, dogs need omega fatty acids, vitamins, and minerals in their diet to help with immune, joint, bone, heart, and brain health. Probiotics and prebiotics are a must for dogs with sensitive stomachs or gastrointestinal issues.
Avoid Artificial Additives
Chemicals, dyes, artificial flavoring, and preservatives can cause food allergies to occur or worsen.
Other Factors That Can Cause Gas in Dogs
There are so many different things that can cause your dog to have excessive gas such as slipping them too many treats from your plate, certain vegetables, internal parasites, and even swallowing too much air. When the gas persists you may want to review your dog's diet and see if there has been a change, if not, then a trip to the veterinarian may be the solution.
Aerophagia is the increased swallowing of air and can cause an increase in the amount of gas emitted
Dogs that are overweight or do not exercise are more prone to excess gas because their gastrointestinal tract is sluggish
A sudden change in your dog's diet whether by switching dog food or adding a lot of treats
Eating spoiled food or treats can cause tummy upset and an increase in gas
Eating their food too quickly and gulping in extra air as they eat
A diet that is high in fat with little protein and good carbohydrates
A dog affected by Inflammatory Bowel Disease (IBD) will have an increase in smelly flatulence
Some dogs have Small Intestinal Bacterial Overgrowth (SIBO) and a diet rich in probiotics and prebiotics is the only solution to excess gas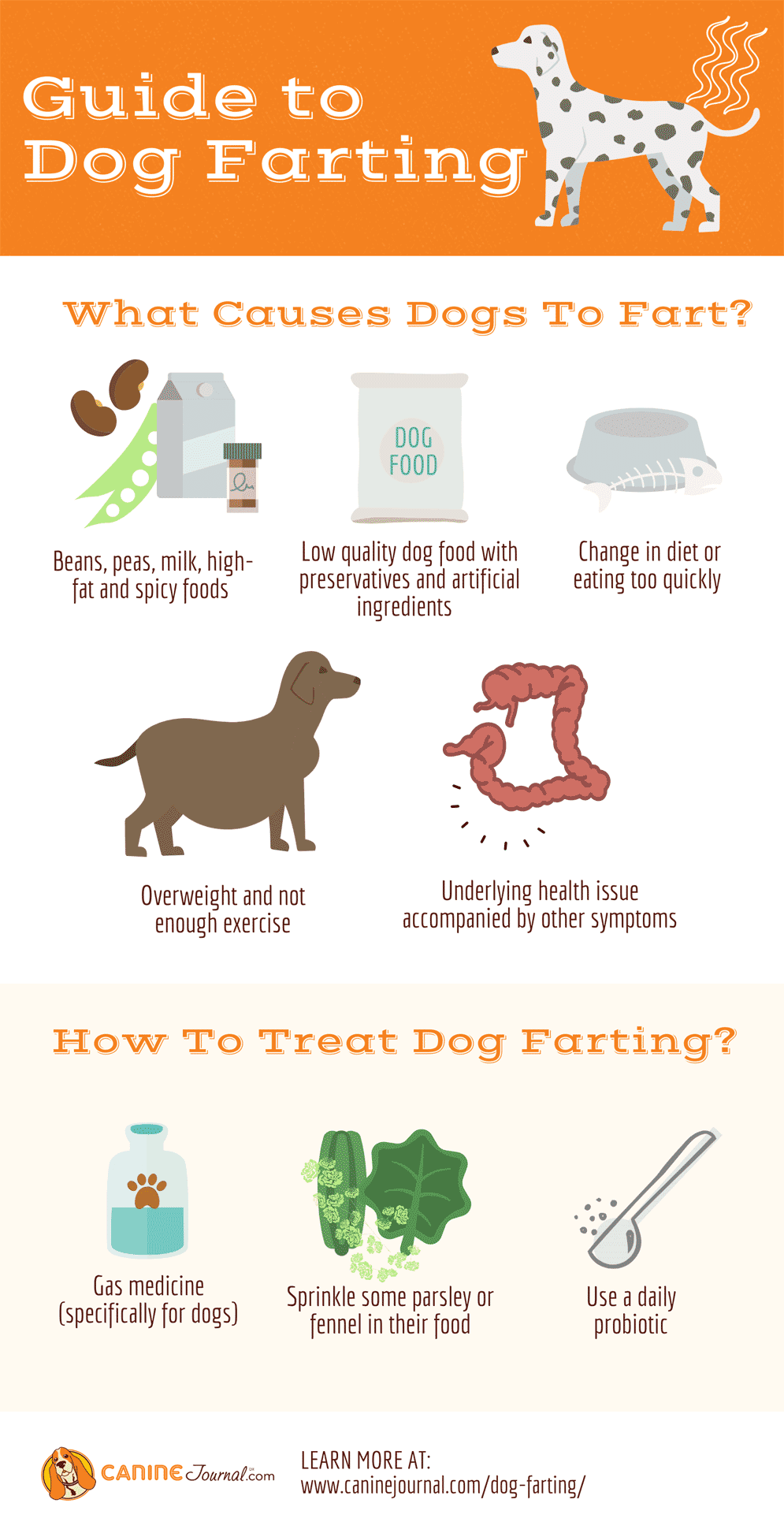 Once you have identified the source of your dog's excessive flatulence, you can take the appropriate steps to alleviate the problem. Having a dog that constantly drops stink bombs is not pleasant and you do not want to cuddle them or even be in the same room with them. You know your dog better than anyone, if you smell an increase of gas coming from your pooch, take a few minutes to review their diet and exercise plan. If nothing has changed, then you need to look at the possibility that your dog has developed a food allergy or there is some underlying medical condition causing the problem. Speak with your veterinarian about your dog's flatulence problem and then explore the various dog foods on the market for flatulence. Having had dogs all of my life, I can tell you some farting is to be expected and even a little funny at times. But excessive tooting can be a serious problem that needs to be addressed.